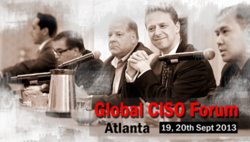 Reykjavik, Iceland – July 29, 2013
The 2013 Global CISO Forum Europe will mark the fifth executive-level information security event presented by EC-Council. Presented in partnership with Promennt, an Icelandic-based IT training corporation, the Global CISO Forum (GCF) is EC-Council's annual CISO event that brings CISOs from all over the world together to focus on the real information security threats to networks, companies, and nations – and for the first time ever it's going to be held in Europe! The GCF Europe will be held in conjunction with Hacker Halted, EC-Council's largest and most popular security event also coming to Europe for the first time, creating a mix of executives and hackers. EC-Council's CISO Program has over 1,000 participants from across industries and around the world and their previous events have drawn top executives from Hong Kong, Egypt, the Netherlands, Bangladesh, Canada, the Philippines, Ghana, Sri Lanka, China, Zambia, Nigeria, the UAE, Switzerland, Mexico, the United Kingdom, Iceland, and all across the United States. An international crowd with an emphasis on European countries is expected at this year's event.
The conference agenda includes a mix of keynotes and panel discussions and boasts speakers from around the industry including Joe Voje, CISO of University of Texas Pan American; Justin Dolly, CISO at VMware; Amar Singh, CISO at Large News Organization; Vincent Grimard, CSO at Nelnet; James Treinen; CTO at Laconic Security; among many others. The topics that will be addressed are Winning the Hearts and Minds of End Users: It's not what you say, but how you say it; User Awareness Programs Lessons Learned – What works and what doesn't; Vendor Risk Management Essentials – In the cloud or not….vendor risk management starts from the same place; Should your organization have a Threat Intelligence Function?; In the Hot Seat; Security as a brand – How to market your department for effective security awareness; Drinking from the Fire Hose – Big Data in Enterprise Security; and Big Data Applied. The topics are designed to reach CISOs at all levels and in all industries and address the increasingly difficult role that demands business savvy as well as technical know-how.
What: EC-Council's Global CISO Forum Europe
Where: Reykjavik, Iceland
When: October 7 – 8, 2013
Venue: HARPA Conference Centre
About the EC-Council CISO Program:    
EC-Council's CISO Program (https://www.eccouncil.org/ciso/) has three components: CISO Events, the Certified CISO (C|CISO), and CISO Resources – a repository for white papers and articles geared toward a CISO crowd. EC-Council's CISO Events are invitation only and geared specifically for high-level, executive information security professionals. Combining keynotes with panel discussions, the events are opportunities for CISOs from around the world to hash out the trends and challenges of information security among their peers. The C|CISO is a certification recognizing an individual's cumulative experience and expertise in executive information security management. Overseen by a board of seasoned and distinguished professionals, the C|CISO Program has certified over 700 IS executives from around the world.