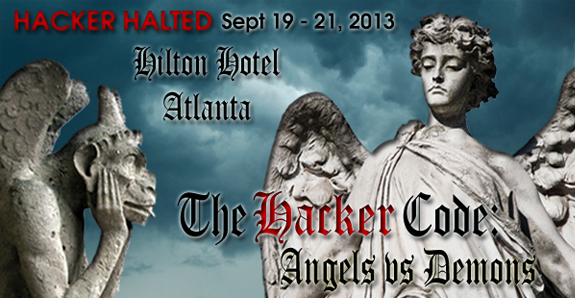 EC-Council's flagship information security conference, Hacker Halted USA, officially starts on September 19th in Atlanta. Now in its sixth year, the conference consists of over 50 briefs by leading security researchers, divided into three-tracks over three days, and four days of advanced technical training by the industry's top instructors.
"This year's Hacker Halted USA is focusing on a wide range of escalating threats, from mobile security and the cloud to critical infrastructure targets," said Eric Lopez, director of conferences and events for EC-Council. "Top security researchers from around the world, will be showcasing the latest vulnerabilities on which corporations, financial firms, government agencies and SMBs need to focus. In conjunction with Hacker Halted is the Global CISO Forum, an invitation-only event for top infosec executives to share information and discusses successes, failures and best practices."
A recent study by the Center for Strategic and International Studies estimated cyber attacks cost the global economy $300 billion each year – and $100 million per year in the US. With such a massive impact on the global economy, more businesses and governments are seeking out new solutions and more proactive strategies to combat it. Information security conferences like Hacker Halted provide a unique glimpse into the world of hackers and give corporate executives, IT professionals and security teams a chance to preview the latest threats and defense strategies.
Here are key highlights of Hacker Halted USA:
Hacker Halted USA runs from September 19-21 at the Atlanta Downtown Hilton
Four keynotes by leading industry experts, including Charlie Miller, Adrian Crenshaw, Winn Schwartau and Ira Winkler
43 talks by top security experts, including well-known organizations like the US Army, U.S. Treasury, Facebook, Square, RSA, Qualys, McAfee's Foundstone Division, Salesforce and Penn State University
Presentations to cover latest vulnerabilities and hacking threats for mobile devices, the cloud, critical infrastructure and more
Four days of advanced technical training (September 15-18) before the conference, including Certified Ethical Hacker (CEH), Computer Hacking Forensic Investigator (CHFI), Certified Security Analyst (ECSA), Certified Information Systems Security Professional (CISSP), Advanced Penetration Testing, Advanced Mobile Hacking & Forensics, Advanced Network Defense, Hacking Secure Encryption & Countermeasures, Ultimate Malware Analysis, Snort Fundamentals, Ultimate Hacking: Human, Network Forensics and more
Global CyberLympics, an international hacking competition, will have its World Finals on September 19th
Global CISO Forum, an exclusive summit for information security executives, takes place in conjunction with Hacker Halted, from September 19-20 in Atlanta
Full story available for download at PRWeb.com